DreamHost Web Hosting
DreamHost a web hosting company, founded in 1997. It is offering sort of hosting services, including shared, VPS, dedicated and WordPress hosting. It is reliable and affordable hosting provider to small and large businesses as well as individuals.
One of the key features that sets DreamHost different from other hosting providers is their commitment to open-source. DreamHost is a strong supporter of the open-source community and hosts many popular open-source projects, such as WordPress, OwnCloud, and Nextcloud. DreamHost also offering free WordPress site migration if any user already have WordPress site that want to migrate to DreamHost.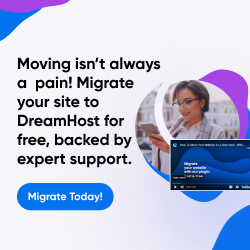 DreamHost is offering different sort of hosting plans to match several needs and budgets. Their shared hosting plans start at just a few dollars per month and offer unlimited bandwidth and storage, making them a great choice for small websites and blogs. Their VPS and dedicated hosting plans are designed for businesses and websites with higher traffic volumes and require more resources.
One of the standouts features of DreamHost is their award-winning customer support. They offer 24/7 support via live chat, email, and phone, and their team is highly knowledgeable and responsive. In addition to their support team, DreamHost has a full knowledge base and a community forum where users can get help and share knowledge with each other.